September 10th, 2009
Way back in 2002, I had just moved to Canada, and I had just begun to knit. I learned on MarthaStewart.com, of all places, so perhaps it wasn't surprising that I have always turned to the Internet to find a common community of crafters, and eventually, friends.
Back then, there weren't a whole lot of knitblogs, and I quickly became one of them. I remember I could traverse the entire ring in a matter of an hour or so, pausing to read new entries from favorite bloggers. It was a small community, and it felt like we all got to know each other pretty quickly.
When the first issue of Knitty came out in the Fall of 2002, I already considered many of the people involved to be my friends of sorts. Kate, and Kristi and Jillian and Annie and Bonne Marie… all knitters whose blogs I'd read, comment on, and receive comments in return. And how exciting and fresh to have these kinds of patterns available online? And Canadian? It blew my mind a little.
Students in my classes sometimes ask about when I started designing, and are surprised to learn that it didn't take long after that first cast on, and that I was largely self-taught.
But that isn't quite true, is it?
In a way, I can thank Knitty for changing my life.
As a new knitter, seeing people I 'knew' begin to foray into design gave me the courage to try it out myself. After all, they had ideas and made them work. Why couldn't I?
In the third issue, I published my first pattern – Janda.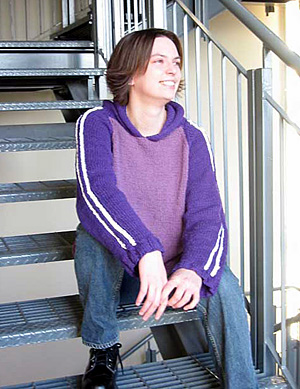 Then, Cleo (Summer 03), Rosedale and Rosedale United (Fall 03), and Nakiska (Winter 03).
Somewhere along the line, my work got a little notice, and I started getting asked to contribute designs to books and magazines, and write a few of my own.
I kept on with Knitty, as I could, though. The Universal Toe Up Sock Pattern (Summer 06) has been really well received, as have Emerald (Winter 06) and perhaps most unbelievably, Mr. Greenjeans (Fall 07).
I can look at all these things and know that without Knitty, and being able to find such a fabulously accessible and designer-positive outlet for my work, I would likely not have:
Published three books and over 80 patterns
Opened a yarn shop
Organized and hosted three weekend knitting retreats with world-class instructors
Thought to organize the Year of Lace
Met all these amazing and inspirational knitters and designers
I know folks like to argue whether or not it's good for designers to provide their work to the public at no cost. I suppose you can guess which side of that argument I come down on, quite firmly.
Without the exposure that Knitty gave me, on top of the confidence, would I have published books? Would my for-sale patterns on Ravelry be just as popular?
I seriously doubt it.
Since that first issue of Knitty back… wow… 7 years ago… things have changed a lot. And I know, from experience, that the longer something great is around, the less we take time to appreciate it.
So, today, on what seems like the eve before the Fall 2009 issue goes live, I want to thank Amy Singer for coming up with this bloody brilliant idea in the first place, and for spending so much time working so hard to produce quarterly issues that we all love.
If you have a blog, or are on twitter, please take some time tonight and write up a quick entry of what Knitty has meant to you over the past seven years. Post a comment here, and I'll link back to your post.
And Amy? If you're reading this? Get back to work, ya slacker! xoxoxo
Subscribe to my blog by email >
10 Responses to "knitty changed my life"
Say Something...
Keep Reading...
« « 15k in 1:53 and still alive | Little Miss Greenjeans » »